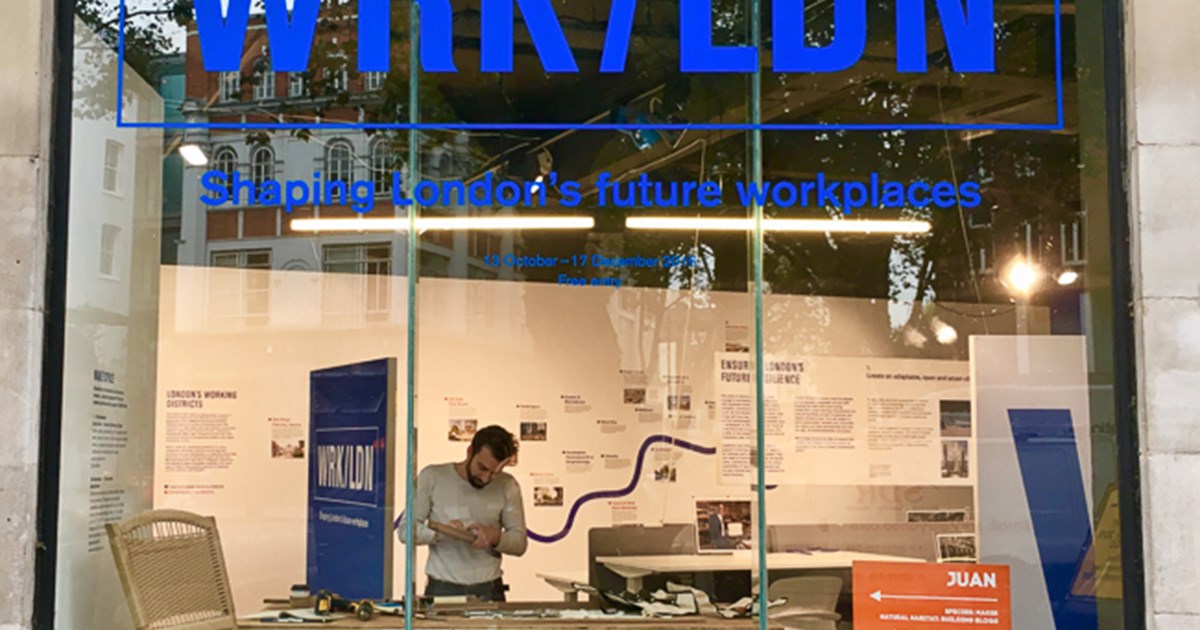 Juan Junca + BloQs Residency at New London Architecture's WRK/LDN Exhibition
Member Juan Junca and Building BloQs have been in residence at the New London Architecture's WRK/LDN exhibition which explores the changing patterns of work in the city. Set up in a window off Tottenham Court Road, Juan has been making a new dining chair design and settee from solid walnut. Read his interview and see him in action on the NLA's blog:
Originally published on http://newlondonarchitecture.org - 2 November 2016
As part of a new series celebrating the overwhelming diversity of products being made in London, we spoke to our first resident maker Juan Junca about his business and what London has to offer.
What do you make? What inspires your work?
I make furniture – chairs, tables, cabinets and also fitted furniture like wardrobes. The material itself, wood, is very inspiring. It has great character and can even dictate a lot of what you do with it. I like the shapes created by natural erosion as well. 
How, where and when did you start making furniture?
Three years ago I decided I needed a 'Plan B' and wanted it to be about producing something tangible. Most of all, I wanted to have work. I signed up to the Fine Woodwork course at the Building Crafts College, and then got experience working for a couple of businesses before starting my own. 
What does a typical day involve?
It's full on when you work for yourself. You design, order materials, make, sell, organise deliveries, do installations on site and keep your books. It's never boring. When I'm making a new piece I first use heavy, stationary machinery for dimensioning and shaping wood and sheet material, then move on to power and hand tools to complete. 
Where do you work day to day?
I rent a bench at Building BloQs, a 'pay-as-you-go' workshop. It's a perfect environment, full of professional equipment and good, hard working people with an immense combined set of skills. (The food at the café is excellent too!)
Has the space you use changed over time?
The whole area around Lea River in Edmonton, where Building BloQs is located, is being redeveloped. Fortunately, the plan addresses the need for workspace, specifically for light industrial uses. Building BloQs will move to a larger space within this development, becoming the largest open workshop in Europe.
What benefits have you experienced through working in London?
There are three main benefits. A big, affluent market, with international potential. Abundance of material and human resources. And one of the most important scenes in the world of design.
What challenges have you faced producing work in London?
There is a lack of affordable workshop access, especially for start-ups and in my specific field, which requires large spaces for machinery, production and assembly, and storage.
Do you see your business expanding or moving?
I have just started but with the possibilities that London offers I am optimistic about growing.