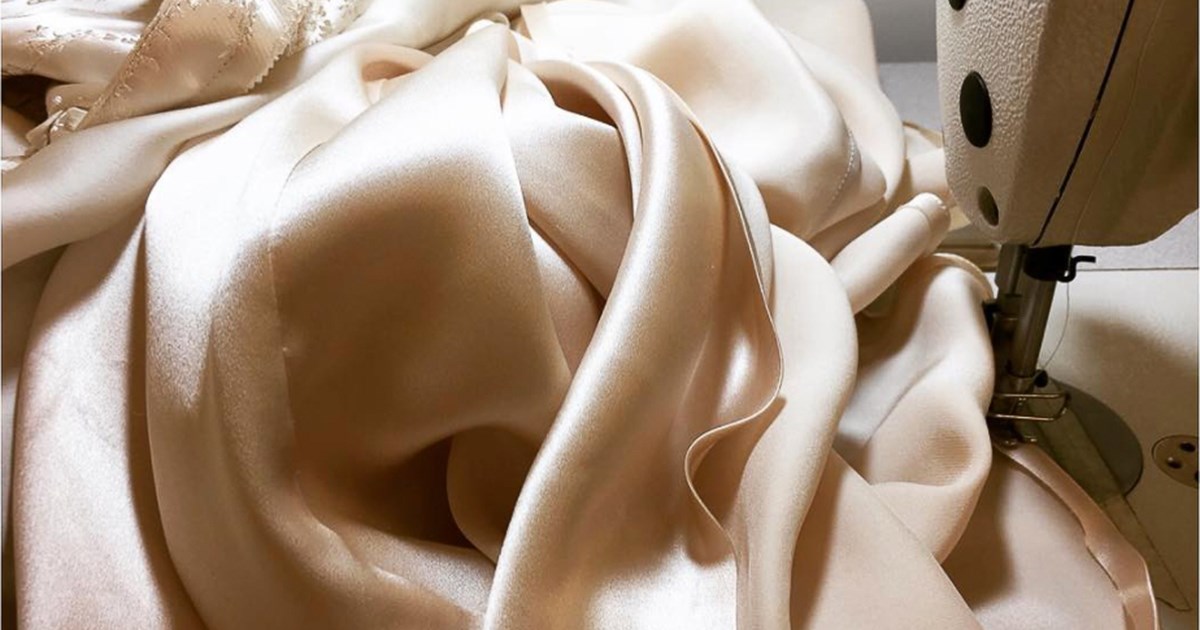 Stephanie Porter - Bridal Design
It's a partnership, a journey we go on together
Stephanie Porter talks of her bridal design business and the BloQs Textile Studio.
More than most maker industries, textiles is defined by its seasonality. In the lead up to spring, the Building BloQs' London Textile Studio is on fire as designers and makers strive to get their new ranges ready.
Wedding dress designer Stephanie Porter - who was our textile member #1 - is adapting to her intensive spring workload. Right now, she has no fewer than eight commissions ahead of wedding season 2017.
After tinkering in other textile disciplines, fashion graduate Stephanie came to bridal design late. For two years it was a sideline but now, full time, she's helping clients visualise and realise the dream dress - the one that's probably been in-planning since childhood.
And they say pilots have stressful jobs.
"I'm quite lucky in that the sort of dresses I do tend to attract quite relaxed brides, they're not generally bridezillas," says Stephanie.
"I think the thing people get most afraid of when having a dress made is that I'll go away for nine months and then turn up with a finished product – and they'll just have to like it.
"But it's not really like that, it's a partnership: a journey we go on together. I get to become friends with people and get to know their families, it's a really nice process to go through."
Prior to quoting on the job Stephanie consults with her brides-to-be, essentially to crack open their heads and add real words, patterns and colours to their vision.
"They'll come along with Pinterest boards and magazines tears and all sorts," she says. "Then I get to the bottom of exactly what they like on those images and boards: it might just be some colour or tiny microfabric, it might be just a neckline.
"We'll have a really in-depth conversation about it, then I'll go away and do some design development."
If Stephanie's early designs are near the mark, and the client gives a green light, the physical starting point is a 3D prototype, known as a "toile".
"We keep it simple to start with," she says. "They try on the toile and I draw on it, pin it, cut it. We'll be standing in front of the mirror and I'll ask more questions like 'do you like the cut of sleeves?' and 'what length should the train be?'
"I'll go away and make adjustments and changes and come back with prototype number two. Each time we refine we get closer and closer to the final design.
"Once we've got to a point where we're ready to go into final fabrics then I'll do a pattern lay, then order everything in and start making.
Stephanie uses the Building BloQs' Textile Studio for stitching her final pieces. She says that although she's got domestic machines at home, she prefers to work on our industrial sewing machines.
Once a garment is made, there's a last fitting before Stephanie adds the final fine detail, such as lace, hand-stitching or beads. Then it's sealed up and given to the bride-to-be before the big day.
And when that day comes, Stephanie admits that she's never far from Instagram, spying on the wedding to see her creation in its natural habitat.
"I just want to see how it looks. It can take ages and ages to get the professional photos," she says. "So, yes, sometimes I do a bit of Instagram stalking!"
Stephanie's eight commissions for 2017 equals a promising start for her and her company Soon Bride. For two years she kept her dress-making sideline a secret from colleagues and peers while she worked a responsible job at an ambitious cosmetics start-up.
"It got to the point where I couldn't do both any more. I was physically and mentally exhausted," she says.
Though exhausting, watching her employers grow their business was hugely beneficial for Stephanie as she got a rapid education in how to scale a company.
"When I joined the cosmetics company there were 13 staff and when I left there were 120," she says. "I saw a tiny business go global which was really helpful: I would recommend creative people take a couple of years out to do the same.
"That's the one thing I felt let me down about my uni course: my technical education was awesome but the business side of things, and preparing for the world of work, was really lacking.
"So learning about business in your paid job it makes the world of difference. Now I feel more confident when I'm dealing with people - whether I'm looking for funding or dealing with advertisers or whatever it is. I know what I'm talking about and I don't feel like I'm going to get taken advantage of."
Just nine months into flying solo full-time, Stephanie is enjoying a bumper year and is even looking for stockists for her line of ready-to-wear bridal range. It's fair to say she's enjoying life as a wedding dress maker.
"The job satisfaction is immense," she says. "I wouldn't ever not want to do it, it's just a really fun, creative thing to be able to do. Every bride is different, every brief is different - so I get to go into a different part of my imagination every time."