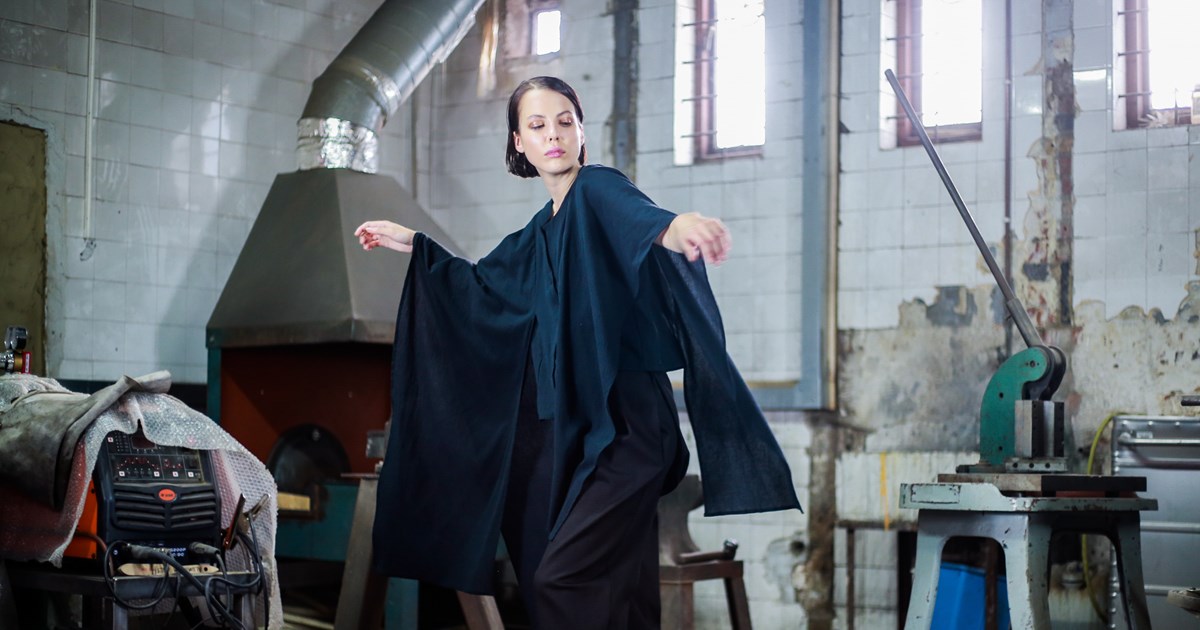 Angelika Chilikova - from starting again to overnight success
"Elegant, playful, happy – for me there are different emotions through the darkness of black."
Garment designer Angelika Chilikova has, in just under two decades, had at least two careers.
Her first and original career started alongside her fashion designer mum at Kino, a renowned Greek fashion house, which she would later join as Design Director. At a young age, Angelika found herself managing a team (which included her mother) and designing for a large roster of celebrity clients.
But it was ten years ago, when she landed in London by an accident of love, that careers two and three began.
Fresh to London, and with her new partner studying in the capital, Angelika faced a tough couple of years as she was forced to rebuild from the ground up.
"I didn't speak any English so I couldn't work as a designer," she says, "instead I worked as a pattern cutter.
"No one really cared about my CV and cutting patterns was a big drop – I felt I was only using half my skills but I couldn't speak the language so I couldn't present my ideas.
"I thought I was going to be stuck as a pattern cutter and I started to give up. By the time I'd been at the company for five years, I needed to do my own thing."
Not really intending to start her own business, Angelika was primarily trying to escape her reality and put her substantial skillset to better use.
Sensitive to Angelika's goals, her then employer softened the fall into self-employment by letting Angelika stay on as a freelancer as she tried to make ends meet. The workload soon caught up.
"I went on trips to Asia to visit factories and quickly wound up working seven days a week," she says.
"Before long, I was taking part in trade shows and exhibitions and, somehow, big orders started coming in.
"It was unexpected. It was too much for one person to handle."
Although peers told Angelika that building a brand would take years, for her it seemed to happen overnight. Her company, Clon8, started in November 2013, and a busy first year was followed by bigger and faster challenges in the years that followed.
Although Angelika designs for a female audience, she found that men's and women's magazines alike were picking up on her work, filing her garments under unisex.
So with orders flooding in, a supportive media, and new collections in the pipeline, Angelika was under pressure to deliver. Owing to a lack of decent, affordable facilities in London, she even resorted to making her pieces back in Greece.
As with so many of our makers, Angelika arrived at Building BloQs' almost by accident and certainly by necessity.
"A friend saw the Building BloQs stand at Student Fashion Week and convinced me to come to see it. I told her she was a genius – BloQs was exactly what I needed.
"Twice a year there are fashion seasons to make for. And in between those I come into BloQs to make the pieces that I want to make."
BloQs and Angelika came together an interesting time in the latter's career. After several whirlwind years, she was able to, finally, stop, hold back and take stock in 2016.
"Last year there was a period when I needed to step back," she says, "to look at what I'm doing, observe the brand and assess where I want to go."
And taking stock, for Angelika, includes coming back to black. Although she has experimented with different colours, styles and materials over the years, she now works almost exclusively in black, believing it harbours endless emotional and stylistic possibilities.
"People think black is an easy colour to wear – but I think about it in different terms," she says. "It's easy to express your personality through black but you still need to be quite brave."
And brave is a suitable word to describe Angelika Chilikova's careers to date. From learning her trade in Greece to starting again and building a name for her fashion line - almost over night - it's an impressive rise for an entrepreneur who was finally able to make herself heard in London - and beyond.