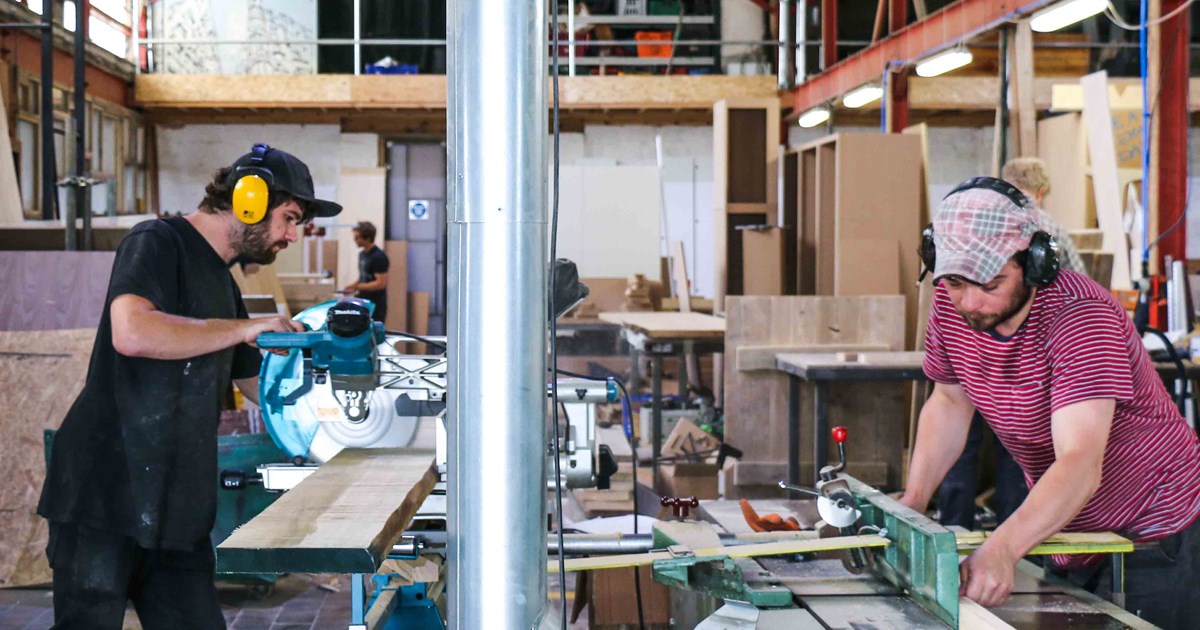 Students + Graduates at Building BloQs
Building BloQs has, since opening in 2012, become a professional home for seasoned makers, many with heavyweight portfolios and long established client networks.
But our open workshop in north London is equally perfect for makers in their early throws. It's a time of year when a steady flow of students and grads join our ranks, so they can hone skills, continue their education, make a living and establish their future careers.
Building BloQs is here to provide workshop space and professional equipment affordably and flexibly so makers can swerve the city's inflated prices. That's why we're here.   
We knew the issues facing independent makers and have seen the same cost-for-space conundrum in education too - and that institutions' workshops were struggling to meet student demand.
We sympathise. It's difficult to justify spending cash to fit and maintain big, noisy, expensive, low volume workshops when lucrative and populist options - IT or STEM labs, cafes or canteens - seem more viable.
But with students scoping out options further afield, we want to be sure their limited budget can go as far as humanly possible.
Zana Agafonova - a fashion grad as of last month - came to our fashion and textile studio in January to make a start on her final collection, partly because of the strain on Cass campus facilities.
"There was big demand on space and machines at The Cass," says Zana, "it's small and there isn't a variety of machines. So I started looking at other options.
"I was looking for somewhere I could be. And think. And have the facilities to make a large collection in a short space of time. After looking around, I found Building BloQs."
Zana is one of many students and grads at BloQs; taking advantage of the space and the equipment - but who found additional perks.
Fashion graduate Stephanie Porter decided to turn her sideline making wedding dresses into a full time career, and came to BloQs last year.
Working from our fashion and textile studio means Stephanie can keep overheads low and margins high at a crucial time in the life of her business.
"What I do is quite seasonal," says Stephanie. "I can go for a couple of months where I'm just designing or doing computer work so it wouldn't make sense to own machines or have a full time workspace."
Another graduate, Zekan Cemal, is one half of Offset Studio, a start-up scenery and prop-making business. For Zekan and partner Hebe George the affordable London workshop is a plus, but the flexibility of space and a ready talent pool means Offset can punch above its weight.
"I can take the workshop and adjust it as I need," says Zekan. "I can take a job that's quite small, so one bay would work. But for a bigger job, I'll need a lot more space - and a lot more stuff.
"We don't have the skills or capacity to do it all but at Building BloQs finding someone to help is as straight-forward as talking to people.
"If you need someone with a specific skill it makes sense to go with someone who you know; who's work you've seen seen and who you know you can get along with. Collaboration is especially rewarding because you learn something from the other skillset."
And it's not a one-way street. Designer-maker Barnaby Reynolds is a long-established maker whose work has featured in Wallpaper and Elle - and whose former clients include Harrods, Vivienne Westwood, Paris Hilton and Sharon Osborne. He is one of many BloQs members passionate about imparting their experience to help the next generation of makers advance.
"I collaborate a lot - on most projects, often with someone different each time," says Barnaby. "I enjoy watching the way other people work: what they're drawn to: what they're actually excited about.
"There's a level of care I look for and it's not about the stage someone is at in their journey. I'm drawn to people who share a value or who are clearly passionate in the way they approach materials and creativity."
Makers Ben Hooper and Noah Kay cite makers like Barnaby as a core reason for choosing to base Knotch.Design, their eco-furniture business, at Building BloQs.
"Studying at Building Crafts College gave us both a much broader spectrum of design education," says Ben. "But we are still working out what kind of makers we are.
"BloQs is the perfect space for us to learn from the rest of the guys here, whatever their discipline."
For students and grads, Building BloQs presents an opportunity to tap into experience and skills; a place where designers and makers collaborate and take advantage of flexible space and affordable workshop rental costs.
We like to think our big orange shed is helping the next generation of makers look ahead.
But that's not a one-way street either. At Building BloQs we're forever looking at our own evolution - and we see a day where students and graduates of all making industries, skills and disciplines can gather here.
We aspire to be a place where engineers, architects, scientists, technologists and marketers can all feel at home: a place where anyone can throw their skills into the common lot - and explore innovation and enterprise.
Right now, we are a pay-as-you-go open-access workshop for wood, metal, CNC and textiles, we have a top laser cutter facility and cater for many more maker disciplines. But like our members, Building BloQs wants to grow - to do more, to learn new skills and to widen the scope of what we do.