How it all began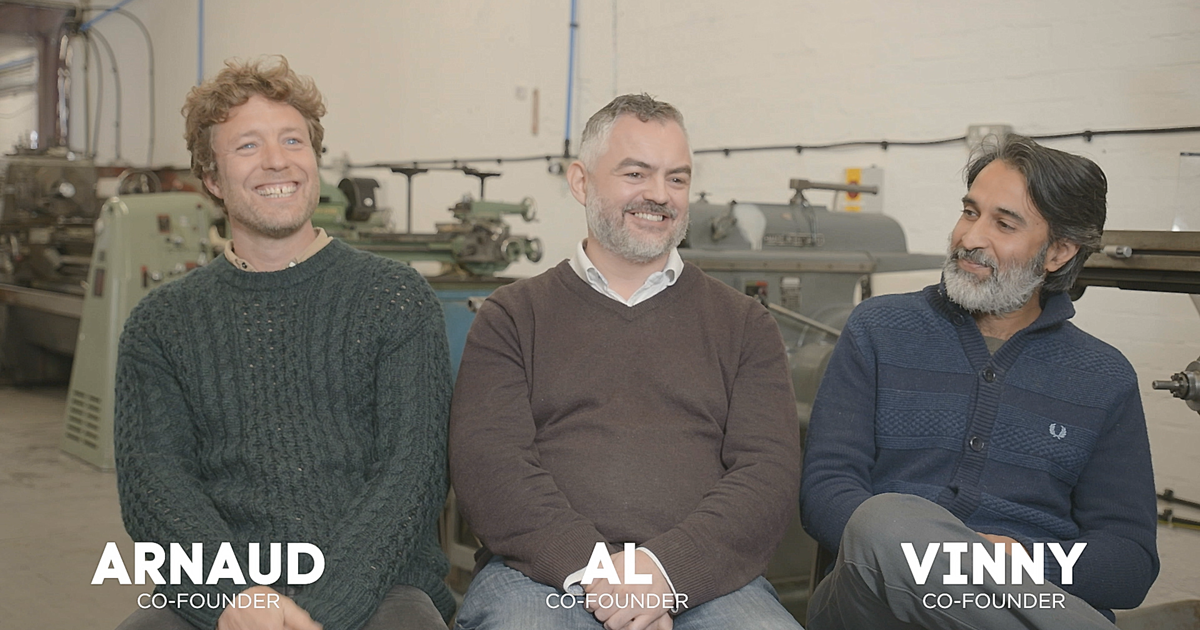 Co-founders Arnaud Nichols, Al Parra, and Vinny Nanray
In 2012 we were a bunch of soon-to-be-homeless housemates standing in a leaky Enfield shed. We didn't have friends in high places or broadsheet support. We had our skills, a bit of a vision and some very interesting years ahead.
Building BloQs started with seven makers, craftsmen and artists. We had several thrifty, happy years cohabiting in a north London live-work space called The Chilli Works - sheltering from rising London prices. But when the landlord served notice, the reality of the rental market smashed us in the face.
"60 percent dearer and half the floorspace," would be reported back after another fruitless week's space hunting. It was quickly evident that what we had at The Chilli Works wasn't going to continue unless it was on our terms – and that was the crystallising point.
Finally, we spotted this site in Enfield. Although a bit of a dump, the building was viable to create a different kind of workspace. So on a rainy day in March 2012 we signed the lease the seed of Building BloQs was planted.
Over the next year, I and the co-founders, Al Parra, Alex Motta, Vinny Nanray and Julien Thomasset, ploughed in our own cash - which was enough to just about cover the building refit -  and put the groundwork in place.
Sure, we have squabbled over details, but our vision remains the same: Building BloQs is a workspace shared by many. Those who use it pay for it as and when they need access. There are simple economies-of-scale at play here: more members equals more purchasing power for the machines and equipment that would otherwise be out of reach to many.
BloQs caters for as many makers as our versatile workshops can accommodate - scaling up or scaling down depending on member needs. We offer the best-in-class machinery, from traditional analogue tools to advanced digital systems, and we provide social spaces to foster a happy environment for our members.
Leftover waste materials are recycled between members or converted to fuel to power the building. All our savings are passed to members: our raison d'etre is in making this the cost-effective option for people who make things.
But we're more than just a workshop with top kit and low overheads. I, and the BloQs founders, wanted to recreate and build on our experience at The Chilli Works and that's why Building BloQs places such a huge emphasis on innovation and collaboration. We encourage members to band together, to experiment, to bid for bigger and better projects together, to leverage each others' networks and share the wealth.
We're so much more than a place where people ply a trade. Our café is the beating heart of Building BloQs, it's really where the magic happens. Members can chill and refuel on restaurant-quality food without the restaurant price tag.
The café is a focal point for bringing members together, introducing fellow makers and nurturing a culture of collaboration and co-working: fusing people and skills together and ensuring teams of members can bid for projects that would otherwise be too big for one person to take on.
My fellow co-founder Vinny keeps the workshops running and has established the introductory training initiatives to encourage member collaboration. With blacksmiths working with carpenters, seamstresses with digital fabricators, there's a cross-pollinisation of skills allowing them to diversify their offerings in market. With a wider range of services, makers' earning power grows.
All that has been mentioned is the essence of the Building BloQs' mission. We are more than just a space for people to work, we're are a space for people to earn, learn, and develop.
As part of the Meridian Water regeneration project, we'll soon move to a new, larger location so we can continue to grow at scale. The savings, the advantages, the facilities will be more and bigger and better. This means more purchasing power, more bright minds, more opportunities to swap skills, and more services. We will continue to drive the professional relationships, skills, and careers of talented people of all trades and disciplines.
I'm proud of what we're achieving at BloQs, and I encourage you to come and see it for yourself. We'd be delighted to show you round.
Arnaud Nichols
Building BloQs Co-founder