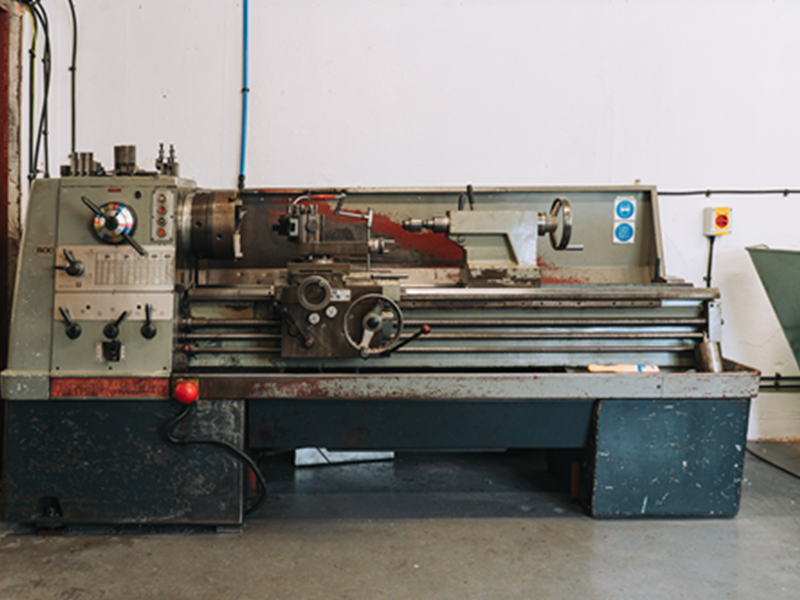 In Gear – BloQs Engineering Just Got Serious
A brand-new department has joined family of facilities in the Building BloQs workshop. From raw analogue power to the digital cutting-edge, Engineering now offers makers a wealth of new opportunities.
With its fresh paintwork and bank of well-oiled machines, Engineering marks a step change in what BloQs Members are able to do. The complexity of products that its now possible to make, and the digitised speed they can be made at, allows both existing members to diversify, while opening the doors to a whole new community of makers to join.
A series of three engineering lathes offer reach lengths from 460 to 1500mm, with diameters ranging from 160 to 600mm so turning requirements are well covered. A superb Bridgeport Series 1 Mill and a surface grinder wrap up milling and finishing while a smart pedestal grinder stands ready for shaping and sharpening.
Head of Workshop, Adam Holden, is obviously proud of his new department. He provides Members with the access they need to machines by overseeing all the assessments and trainings. "Of these new engineering machines my favourite is the Invicta Metal Shaper. It can do from heavy stock removal, to key way and gear cutting and fine finishing. It's a very diverse machine," he says appreciatively. "We have chosen these machines to match up to industry standards and to provide Members the broadest range of functionality."
In contrast to the analogue machines the Haas TM2 CNC Machining Mill with its 4th axis and precision movement is able to complete a part machining operation from a single clamping. This machine's capabilities, with its rigid tapping functionality, Gerardi work holding, and large capacity, allow a creativity and flexibility that is entirely new to BloQs.
"The department opens the way for component making, prototyping and small batch production that helps BloQs become a real production node and mesh up even more with London's wider manufacturing base," enthuses Al Parra, cofounder.
If you're looking to rent your own engineering workshop or need extra fabrication capacity a visit to BloQs is now a must. Come and see for yourself.